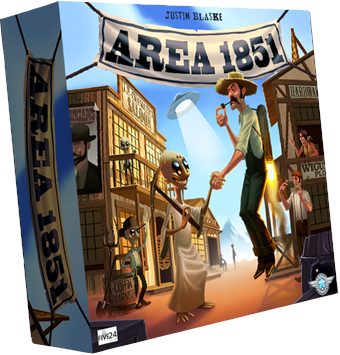 I'm excited to report that my first real project is being published!
Board game publisher Game Salute is running a KickStarter for the board game Area 1851. I wrote the flavor for the game: developed the universe the game is set in, wrote the card names and the text on the cards. They made some changes, but I estimate that about 80% of the card content is mine.
Game Salute employee Michael Fox interviewed me as part of the KickStarter campaign. I enjoyed sharing the process of creating the universe that the game is set in, as well as my thoughts on writing in general.
I'm also nearly finished with a novella set in that same universe, which tells the complete story that the board game hints at. That novella is entitled Miscalculation and will be published within the next few months. Stay tuned! :-)
For now, I encourage you to head over to the KickStarter page and become a backer. I was a play tester for this game all the way through development and it is quite a lot of fun to play. It combines two popular mechanics of board games: drafting (take a card and pass your hand) and worker placement in such a way that everyone can take their turns at the same time, keeping the game moving and providing a very high ratio of fun per minute.