Works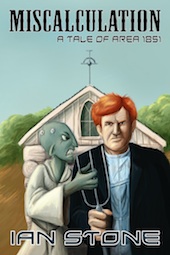 Amos O'Neal and his family joined the wagon train with dreams of a new life in Oregon, but those plans changed when the Krukians' flying saucer descended from the sky. The aliens offered to trade incredible machines for the settlers' mundane possessions, and although Amos didn't trust the Krukians, the other members of the wagon train voted to stay.
Miscalculation is a tale of unlikely friends and contrasting cultures. Featuring uniquely endearing characters and insightful humor, Miscalculation is a story you will never forget. More Info…
Available: Amazon
, Kindle
, iBooks, and Smashwords.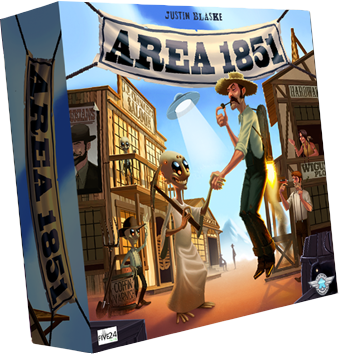 Area 1851
Game designer Justin Blaske, from board game design firm Five24 Labs, asked me to create the universe for the board game Area 1851 and later to write most of the card names and card flavor text for the game. I'm quite proud of how the game turned out and I'm excited that the game is being published by Game Salute!
I was also one of the beta testers for the game and I think it is a lot of fun to play. It combines worker placement and drafting mechanics, allowing all players to take their turns at the same time.
Available: Area 1851 is available for purchase here.